Features
So what does DoZen actually do?
Communications
Optimize employee communication through targeted nurture campaigns and personalized content publishing, all from the comfort of one intuitive CMS that allows you to easily build pages, sites, and emails through drag & drop / WYSIWYG experience.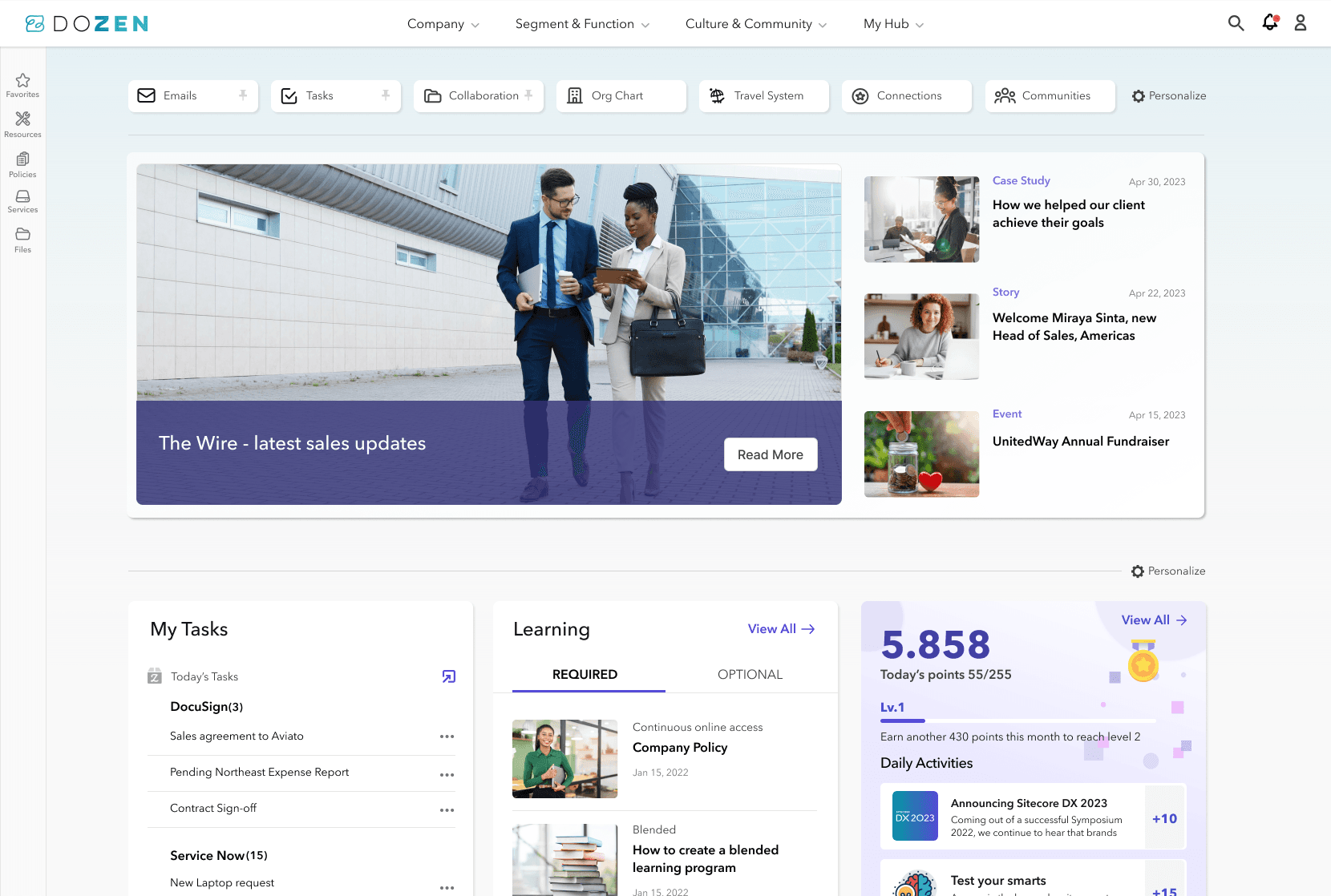 Communities
Create a people-first environment both on and off the clock with a platform that supports connection and enhances the moments that matter throughout the employee lifecycle. Provide a digital, dynamic space for employees to interact and come together around topics, projects, and campaigns with features that allow them to interact virtually, subscribe to communities and ERGs, and receive push notifications.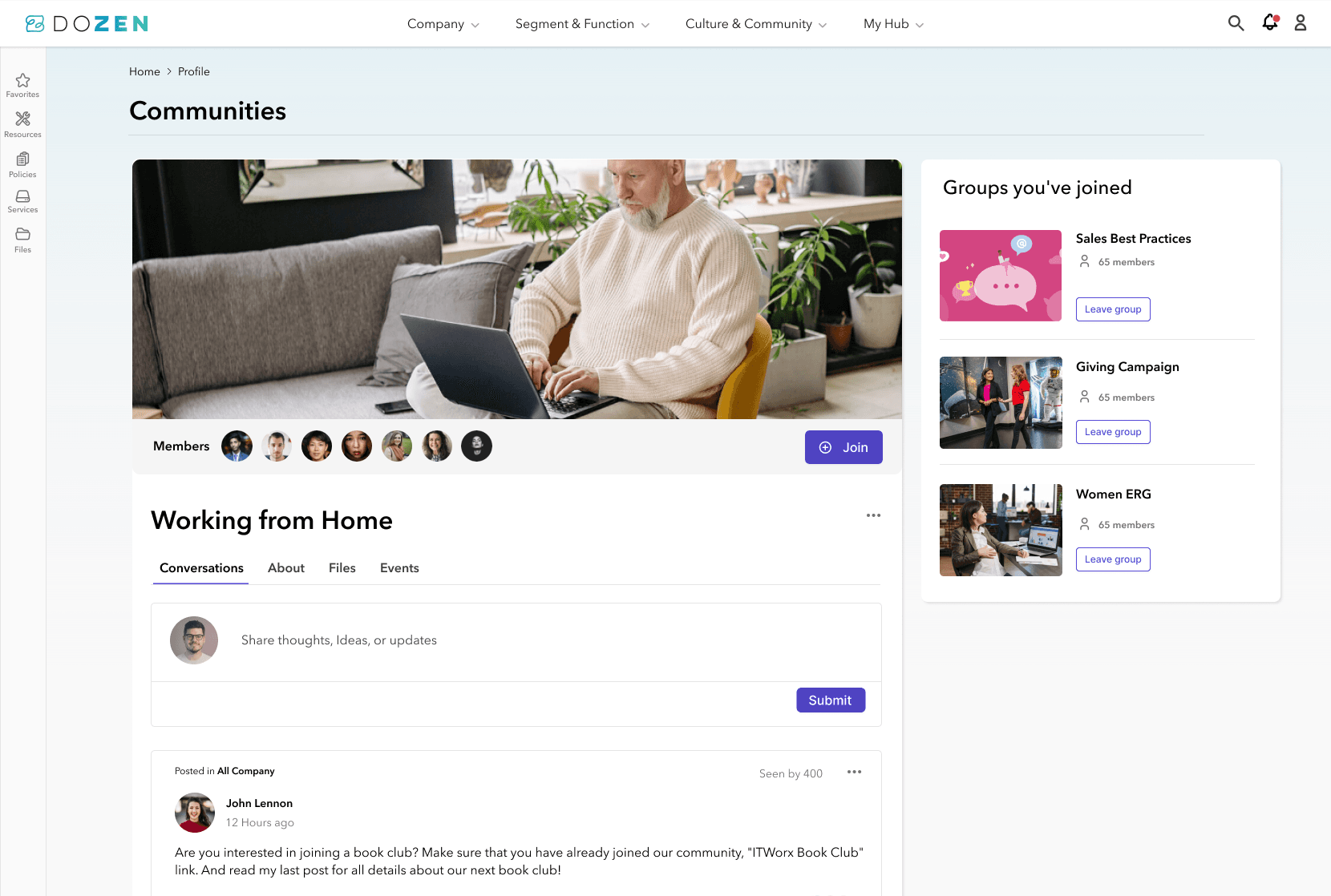 Employee Engagement
Ensure employees are involved and enthusiastic in the workplace through features that foster engagement with content and among peers. Employees want to see and be seen in their organization and DoZen helps highlight employee voices by making it easy to crowd source material from employees through user generated content and automated publishing workflows.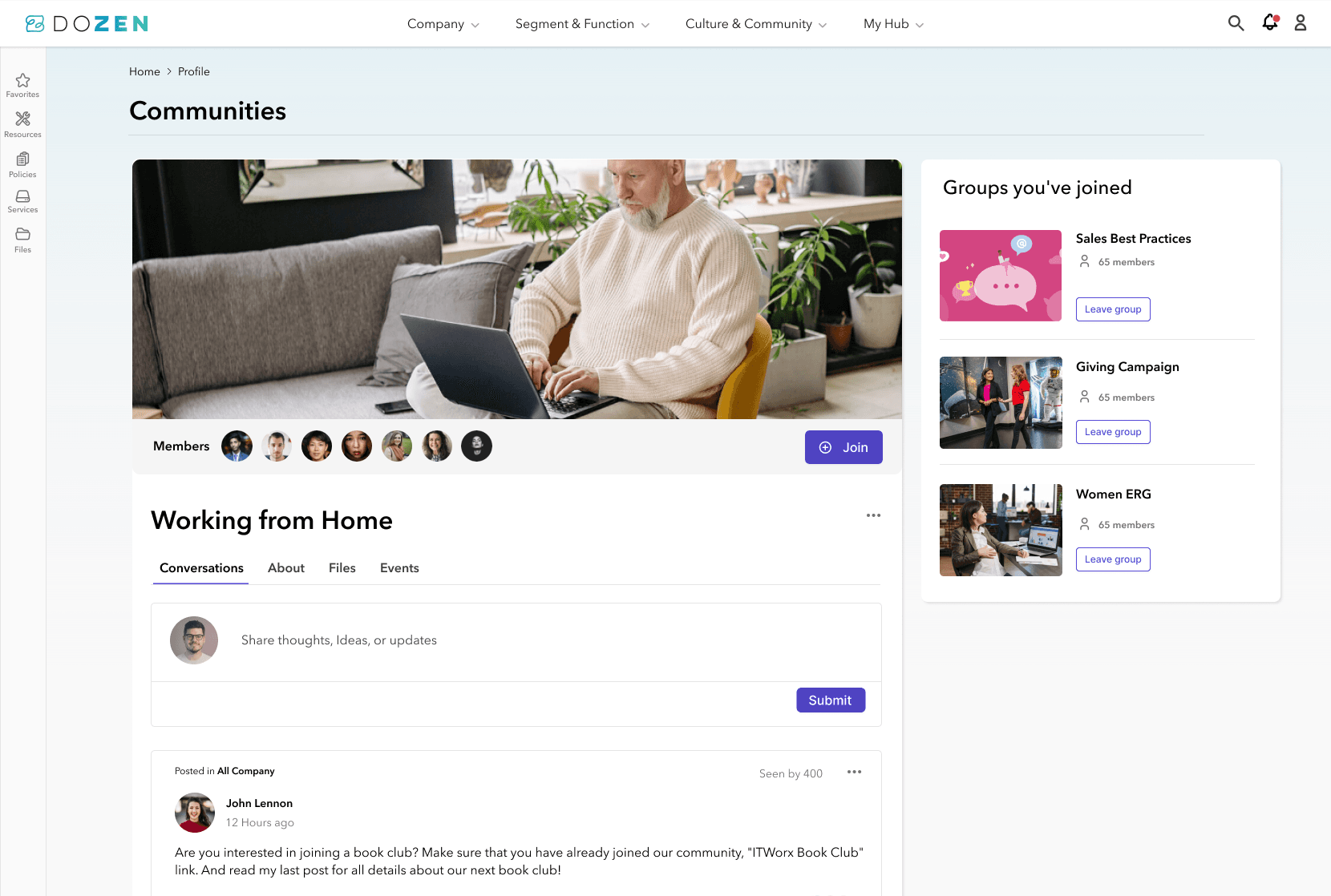 Self-Service
Create one central location where employees can see all the information and resources they need, including corporate information, policies, procedures, org charts, tools and more. We empower employees to search across systems, services, colleagues, and resources–all from one convenient location.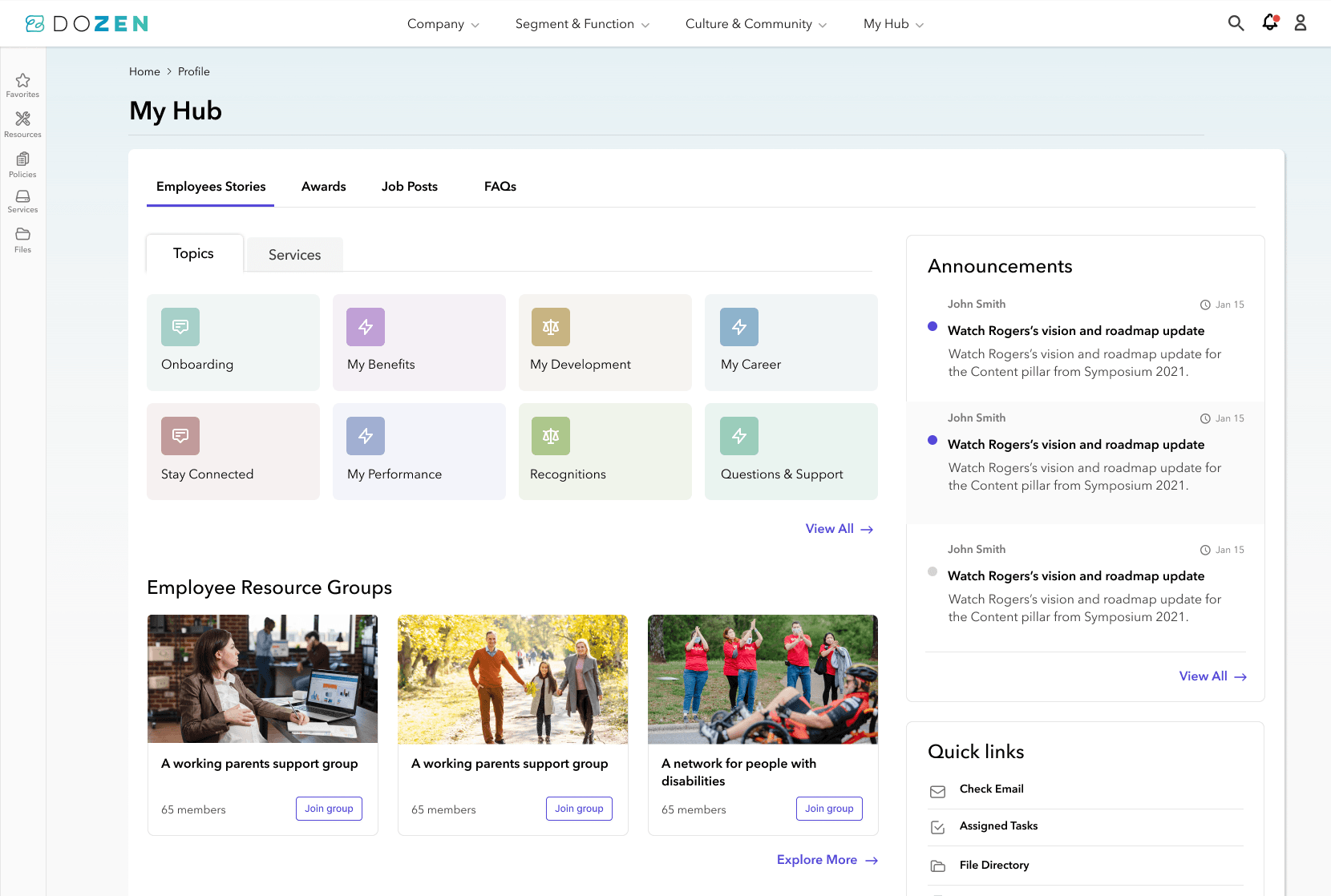 Powerful Insights
Identify patterns and trends in employee engagement thanks to our analytics dashboards and reports, which use data collected from our platform as well as other external data sources, including your connected HR systems. With our engagement insights you can assign value to specific actions and behaviors, measuring your impact with real-time metrics to capture and control data that will give you an end to end picture of employee interactions.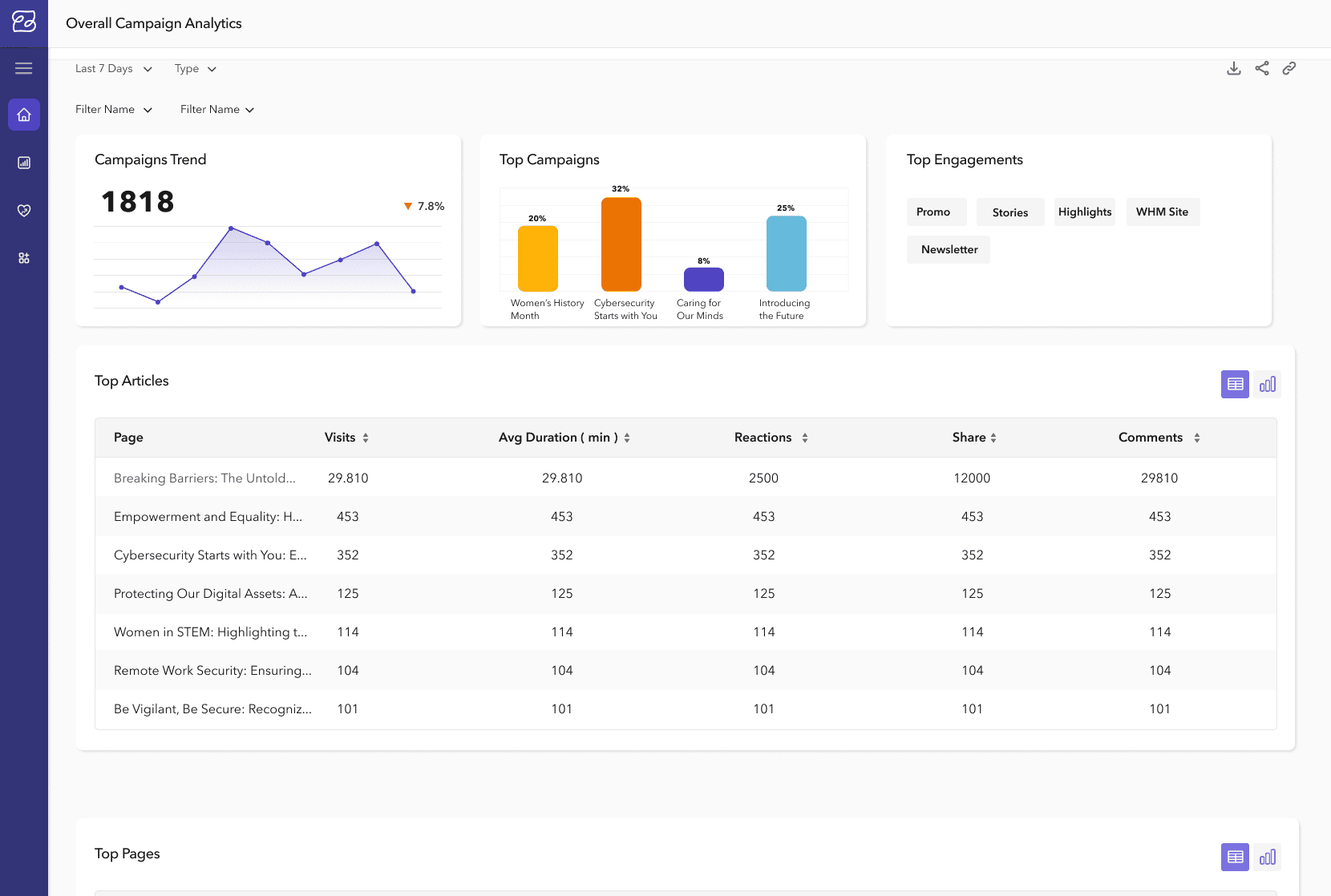 Platform & Eco-System
A powerful extension framework and plugin architecture makes it easy to integrate DoZen into your organization's current apps. Easily sync tasks from other systems and even build your own apps using our developer toolkit. Reach your entire workforce to ensure alignment and simplify your technological investment adoption with step-by-step tailored and automated communications.