Empowering the Future of Work
DoZen is the modern digital experience platform that enables the Future of Work by keeping employees connected, engaged and informed regardless of location.
We integrate your end-to end digital workplaces to increase employee effectiveness, deliver more impactful communications and drive employee engagement. DoZen is easy to implement and maintain and is highly secure.
So why should you DoZen?
An experience-focused solution to help you achieve an employee-centric digital transformation
Encourage meaningful connections across the organization by easily publishing content and enabling employees to easily discover relevant communications and communities.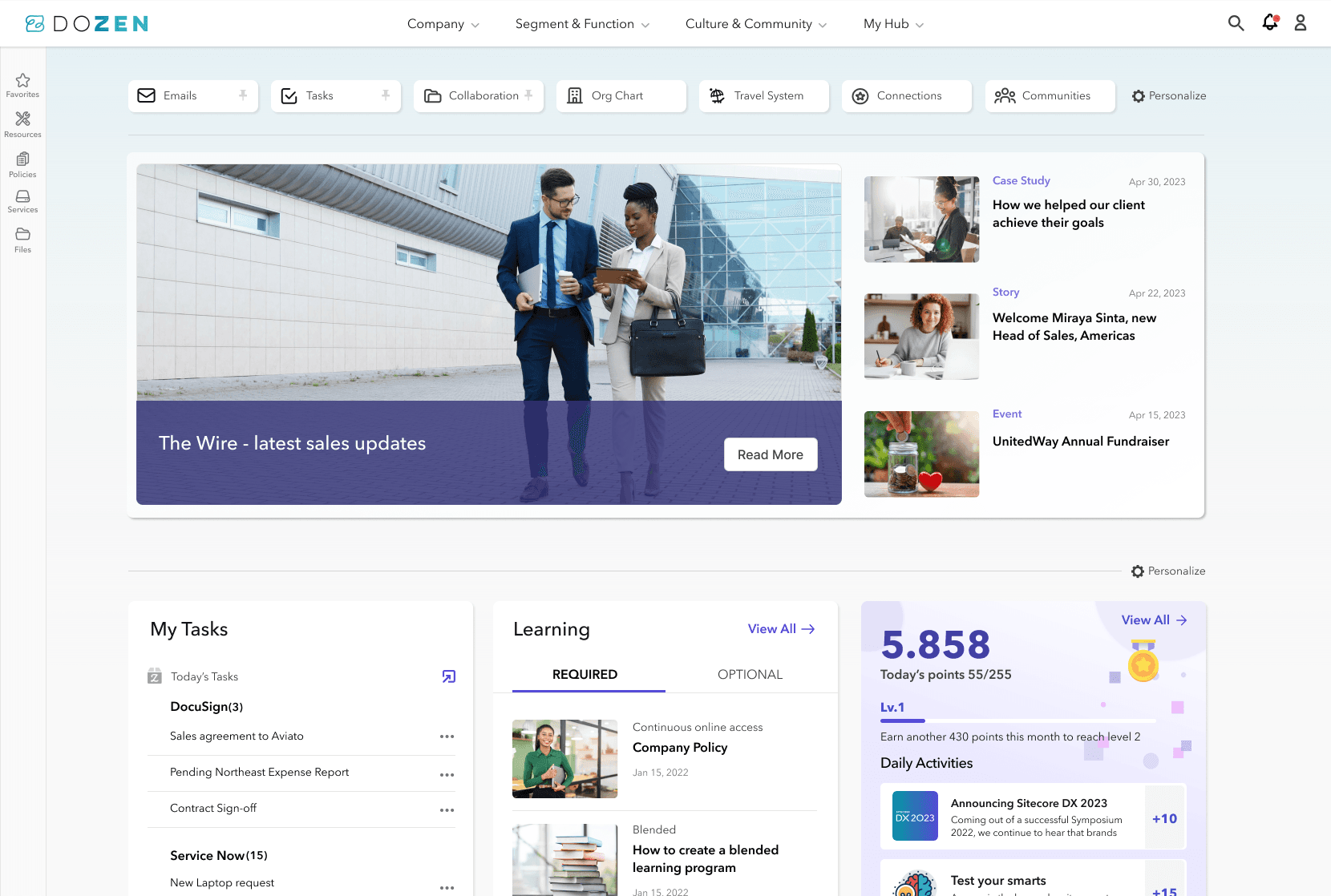 ---
---
Latest Insights
Blog

What SharePoint Gets Wrong

If you represent an enterprise-scale organization, there's a good chance your office uses SharePoint to store and organize employee resources. SharePoint is Microsoft's digital collaboration platform, and because Microsoft is the standard enterprise software for most companies, SharePoint becomes the default option for employee experience. IT teams know Microsoft, so everyone gets SharePoint.

Read more

Blog

DoZen Leads Insightful Roundtable Discussion on Uniting Your Workforce Through Total Experience at Gartner Digital Workplace Summit

DoZen, a pioneering leader in digital employee and total experience solutions, recently hosted a captivating roundtable discussion titled 'Uniting Your Workforce Through Total Experience' at the esteemed Gartner Digital Workplace Summit. The engaging conversation brought together top digital workplace leaders and generated valuable insights into the transformative power of total experience (TX). The event shed light on the interconnection between employee and customer experience, the significance of organizational alignment, and the efficient utilization of tools, among other key takeaways.

Read more

Blog

DoZen & DXP

At long last, enterprise-scale companies are returning to the office. 90% of organizations said they will require teams to work from the office for at least part of the week in 2023, with a fifth of those companies planning to require full-time office attendance.

Read more
Get Started
It's time to take control of your employee experience.
Get Demo